Embrace the Season with 7 New Spring Fragrances.

Asian Pear & Lilly, Tulip, Hawaiian Honey Blossom, Green Pear & Guava, Peony Rose, Camellia & Pink Lotus, Crushed Lime & Sea Salt
Let customers speak for us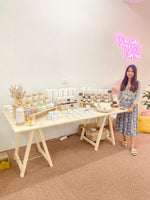 Meet the Maker
April Blossom Co is a husband and wife team based in Melbourne Australia. 
We are a small and upcoming business that developed from the desire to be creative and to create a journey that we could undertake together.
April Blossom Co began in 2020, we began by creating the April Blossom Co brand. April being the birth month of myself and my two sisters, and Blossom meaning to produce flowers and the air Perfumed by the beautiful scents. April Blossom Co has a mission to recreate those scents to bring beautiful perfumes into the homes of Australians year round. 
We believe that our candles sprays and diffusers offer simple luxury which will compliment any home or occasion. Each and every one of our April Blossom Co candles, sprays and diffusers are lovingly hand made right here in Melbourne. 
Widia & Scott