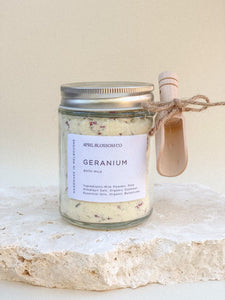 Directions 
To create an indulgent milk bath, simply dissolve one heaped tablespoon under running water and swirl to disperse.
Ingredients
Milk Powder, Pink Himalayan Salt, Organic Oatmeal, Geranium Essential Oil, Organic Botanicals
Benefits of Pink Himalayan Salt.
Exfoliates Skin. 

Helps promote respiratory & immune system.

Acts as detoxifier.

Promotes better sleep. 
Benefits of Geranium Essential Oil.
Reputed to effectively eliminate dead cells, tighten the skin, promote the regeneration of new skin., and diminish signs of aging, works as an anti-inflammatory and anti-septic agent. 
It is reputed to enhance circulation, soothe symptoms of menstruation and menopause, reduce blood pressure and pain, and boost immunity.  
Benefits of Oatmeal.
It's soothing:

 

Many inflammatory skin conditions (including having skin redness from a sunburn or bug bites) can be helped by soaking in an oatmeal bath.
It's moisturizing:

 

Oatmeal baths help form a protective barrier over your skin, and that barrier helps hold in moisture. Just don't sit in one for too long (like more than 15 to 30 minutes)—because doing so can actually strip your skin of moisture.
It has antioxidant properties: Oatmeal is packed with important nutrients like vitamin D, fiber, and magnesium, but it also contains

 more than 20 polyphenols called avenanthramides

 which are great for your skin.
Luxurious
I ordered the brown pillar candle and the Geranium bath milk - I love both products. The bath milk was luxurious and smelt divine!
Lovely Lovely Lovely
Not much else to say! Always impressed with this little company. What's next❤️