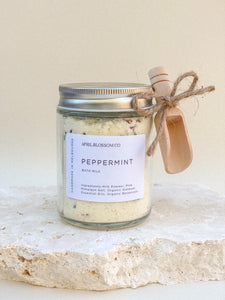 Directions 
To create an indulgent milk bath, simply dissolve one heaped tablespoon under running water and swirl to disperse.
Ingredients
Milk Powder, Pink Himalayan Salt, Organic Oatmeal, Peppermint Essential Oil, Organic Botanicals
Benefits of Pink Himalayan Salt.
Exfoliates Skin. 
Helps promote respiratory & immune system.
Acts as detoxifier.
Promotes better sleep. 
Benefits of Peppermint Essential Oil.
Invigorating and stimulating, peppermint helps clear the mind and promote mental and emotional clarity.
Eases minor headaches, relieved muscle aches, helps clear congestion. 
Peppermint essential oils has a cooling action and in very low dilutions cane be useful in the treatment of sunburn, rashes and itchy skin. 
Benefits of Oatmeal.
It's soothing: Many inflammatory skin conditions (including having skin redness from a sunburn or bug bites) can be helped by soaking in an oatmeal bath.
It's moisturizing: Oatmeal baths help form a protective barrier over your skin, and that barrier helps hold in moisture. Just don't sit in one for too long (like more than 15 to 30 minutes)—because doing so can actually strip your skin of moisture.
It has antioxidant properties: Oatmeal is packed with important nutrients like vitamin D, fiber, and magnesium, but it also contains more than 20 polyphenols called avenanthramides which are great for your skin