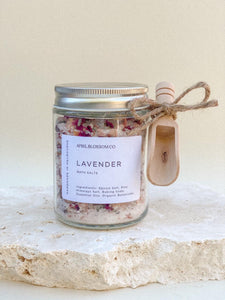 Our Bath Salts are handcrafted from natural Australian Sea Salt and scented with Lavender Essential Oils. 
Benefits of Epsom Salts.
Muscle Soreness. 

Soak to stabilize Moods and relieve Stress.

Soak to assist with Anxiety & Depression.

Relaxing & Calming the Body.

Believe to Heart health aiding blood circulation.

Flush Toxins & Heavy metals from the body.
Benefits of Pink Himalayan Salt.
Exfoliates Skin. 

Helps promote respiratory & immune system.

Acts as detoxifier.

Promotes better sleep. 
Benefits of Lavender Essential Oil.
Anti-inflammatory, antiseptic, and anti-fungal to help reduce skin irritation. 
Also nourishes the skin, induces sleep, relieves stress and anxiety, alleviates pain, improves blood circulation, and speeds up healing of wounds. 
INGREDIENTS: Epsom Salt, Pink Himalayas Salt, Baking Soda, Lavender Essential Oil, Organic Botanicals.
DIRECTIONS: To soak away stress and nourish the body, add 2-3 heaped tablespoons of the bath salts to warm running water and soak for 10-20 minutes.
Ordered Bath Salts
First time trying to Supplier. have to say i was impressed with the Quality and how quickly i received my order. Will be back for more.