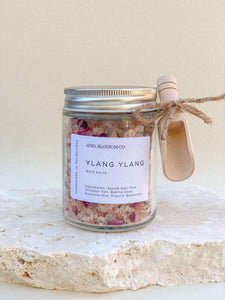 Our Bath Salts are handcrafted from natural Australian Sea Salt and scented with Ylang Ylang Essential Oils. 
Benefits of Epsom Salts.
Muscle Soreness. 

Soak to stabilize Moods and relieve Stress.

Soak to assist with Anxiety & Depression.

Relaxing & Calming the Body.

Believe to Heart health aiding blood circulation.

Flush Toxins & Heavy metals from the body.
Benefits of Pink Himalayan Salt.
Exfoliates Skin. 

Helps promote respiratory & immune system.

Acts as detoxifier.

Promotes better sleep. 
Benefits of Ylang Ylang Essential Oil. 
Know to balance and regulate oil production in the skin and hair, while also soothing inflammation and irritation. 
It enhances circulation, encourages the growth of new skin and hair, contributes and maintains hydration, conditions, and prevents infections, effectively facilitates the healing of wounds, enhances the health of the nervous system, reduces the stress exerted on the nerves, balances blood pressure levels, and stabilizes the heart rate.
INGREDIENTS: Epsom Salt, Pink Himalayas Salt, Baking Soda, Ylang Ylang Essential Oil, Organic Botanicals.
DIRECTIONS: To soak away stress and nourish the body, add 2-3 heaped tablespoons of the bath salts to warm running water and soak for 10-20 minutes.