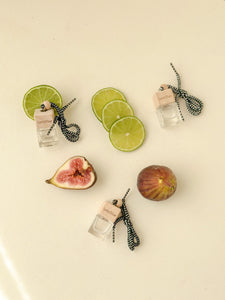 Natural Wood Hanging Diffuser 
Suitable for hanging in bathrooms, bedrooms, kitchens, cupboards, wardrobes and Cars. 
The scented oil soaks into the wooden top and provides a superior scent throw for the diffuser, allowing the subtle scent to release into the surrounding air. 
Our hand poured scented Oil Diffuser is a must have decorative aromatic air freshener accessory to keep in your car, cupboards and other small spaces. 
Take your favorite fragrances with you wherever you go!
Hanging Diffuser Instructions
Turn the bottle upside down several times until the cork is soaked. The scented diffuser emits from the soaked cork top. 
Care & Warnings
* Do not Swallow / Digest.
* Keep out of reach of Children and Pets.
* Do not use on skin - irritation may occur.
* Avoid contact with eyes. 
* Care should be taken not to spill the liquid on any surface. Do not allow the liquid to come into contact with textiles or finished surfaces. It may damage some surfaces if it comes into prolonged contact. If spillage occurs, wipe away residues and spills immediately with a damp cloth. 
* Keep away from wood and plastic surfaces. Do not spill on painted or porous surfaces. 
* Do not light the liquid.
* Keep out of direct sunlight and away from heat and open flames. Store in a cool dark place. 
Duration 
Scent will last up to 60 days with proper care. When Scent begins to dull, simply turn diffuser over and allow scent to soak the wooden Top. 
Size = 5ml
Missed this smell
I love getting in the car and smelling the watermelon. I love the bottles. Have ordered again thank you
Smells fantastic
Smells fantastic would purchase again
Love them!
These car diffusers are too cute, absolutely love them. Great communication and continuous updates from ordering all through to delivery. Highly recommend!
So cute!
Love this little diffuser! Makes my car smell soo nice, would love to try some other scents