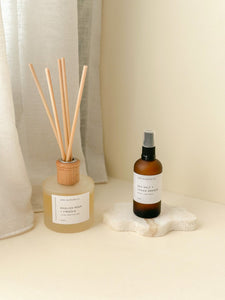 About the Room Spray
Make your Room or Linen smell Fresh and Beautiful with a few squirts of our Room Mist. 
How to Use.

Shake the bottle well before each use, and liberally spray on fabrics as desired.
To freshen your room shake will before use, a few squirts is all you need to bring your room to life.
Available across the entire range of Scents 
Volume: 100ml
Quality Glass Jars ( Frosted )
English pear linen spray
Best smelling linen spray linen spray I've ever smelt in my life. Almost considering wearing it as a cologne
Room spray
Beautiful fragrance love my room spray for bathroom and toilet
Packaging is lovely
Room-Linen Spray
Recently purchased the watermelon 🍉 scent and it smells divine. Highly recommend ❤️
Loved it!
Brought this in the watermelon scent, I cannot stop spraying it everywhere, definitely my favourite!