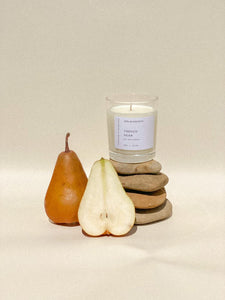 This variety of pear derives its name from the phrase Doyenne du Comice, meaning 'Top of the show', as they are often celebrated as the best pear variety. Originating in France, the fragrance is rich, juicy and meltingly smooth. An amazing pear fragrance.
Top Notes: Orange, Cinnamon
Middle Notes: Clove, Green Pear
Base Notes: Coconut, Vanilla

Average Burn Time (L) 48hrs (M) 33hrs (S) 25hrs
Candles smell amazing!
I got 4 candles in different scents because I couldn't choose just one and I was not disappointed by any of them! They all smell beautiful and are strong enough to fill the room if you just leave the lid off for a while. The candles burn so smoothly and were wonderfully packaged. My order was delivered in pristine condition with the candles carefully bubble wrapped and in individual boxes. Can't recommend it enough - I will definitely come back for more!
Love
Purchased these as gifts. The scents are amazing! Very happy with them.